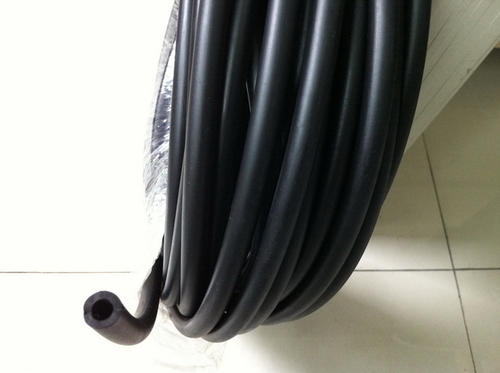 Viton Rubber Strips
Price And Quantity
Product Specifications
70 +/- 5 Shore A

Resistance to Oil, Grease & Chemicals
Viton Rubber

+/- 0.2 Millimeter (mm)
As per customer requirement Inch (in)

Black,Green,Brown,Blue
0.5 mm to 50 mm Dia Millimeter (mm)
Product Description
FEATURES :
Resistance to Oil, Grease,Chemicals :
VITON has the best proven fluid resistance characteristics of any commercial rubber. It has excellent resistanve to oils, fuels, lubricants, most mineral acids, and resist amino aliphatic and seromatic hydrocarbons that act as a solvents for other rubbers. Some of there are carbon tetrachloride, toluene, benzene & xylene.
Temperature Range :
VITON withstands high temperature and simultaneously retains as its good mechanical properties than any other elastomer. Oil & chemical resistance also are relatively unaffected by elevated temperatures. Compound of VITON remain usefully elastic indefinitely when exposed to laboratory air oven aging up to 400°F, or to intermittent test exposures up to 500°F. Its general working temperature scale is -15° F to 440° F. VITON is generally serviceable in dynamic application down from zero to -10° F, although special for mutation permit its use in dynamic application down to -65° F. Also VITON has proven satisfactory for static seals used under cryogenic condition approaching absolute zero. VITON rubber can perform without material failure even at extreme temperatures on either end of the temperature.
Flame Resistance :
VITON will not propagate flame, it burns in the presence of flame but extinguishes itself when the flame is removed.
Resistance to Mechanical Abuse :
Considering their exceptional heat and fluid resistance, finished products made from VITON offer unusually good mechanical propertiesand are tough and long wearing.
Resistance to Other Environment Factors:
The biological resistance of VITON is excellent. A typical compound tested against specification MIL-E-5272 C showed to fungus growth after 30 days. This specification covers four common groups of fungus. This standard compound of VITON do not have good resistance to steam above 300° F, or to hot water above 350° F. Hot water or 100% humidity conditions at 100° F, also have some adverse effect on the heat and compression set resistance of products made from VITON.
VITON ranks about midway among commonly available elastomers with respect to gamma radiation resistance. However, since high temperature is frequently involved simultaneously with exposure to radiation the practical effectiveness of VITON correspondingly increases.
Under extreme vacuum conditions VITON exhibits weight loss of only 2-3%, indicating that is virtually completely immune to outgassing.
Recovery from Deformation :
The exceptionally good compression set was shown by a typical compound of VITON after test compression for various periods of time at 300° F, and 400° F. This is for meaningfully when it is realized that most rubber have a service temperature ceiling less than 250° F.
Electrical Properties :
The electrical properties of VITON suggest its use as a wire insulation for low voltage: low frequency application requiring unusual heat & fluid resistance.
Size available : 1 mm Dia to 50 mm Dia
Trade Information
FOB Mumbai

2000 Per Month
Free samples are available

Standard
All India

ISO 9001:2015. Food Grade certificate available on demand